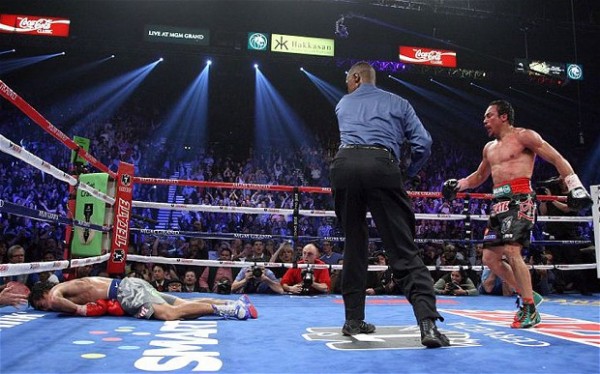 Manny Pacquiao vs Juan Marquez 4
It has been quite some time since I've watched a boxing match. If I remember correctly, the straw that broke the camels back was the Pacquiao vs Bradley fight on June 9, 2012, where Manny lost the fight and his WBO Welterweight belt. It was a shameful outcome and confirmed my dislike of what was happening in the world of boxing. However, because I really like Manny Pacquiao as a boxer and what seems to be a very decent human being, I was interested in seeing this fourth and probably final fight between two light-weight warriors.  Pacquiao vs. Marquez 1 (a draw – May 8, 2004), 2 (Pacquiao wins – Mar 15, 2008) and 3 (Pacquiao wins – Nov 12, 2011 ) were all very good fights, of course with their own controversial results.  This fight was going finally seal the deal that Manny Pacquiao was deserving of his two previous wins over Marquez.
The hype of this fight was promoted heavily by HBO 24/7 and both fighters seemed confident they would win. Manny promised a convincing win and Marquez worked on muscle strength and said he was a smarter fighter than Pacquiao.  The fight started fast and I was amazed with Juan's counter-punching skills and accuracy.  Juan worked hard on Manny's body to try and slow his pace down. Manny's speed was evident as he popped Marquez with punches, but the two did have explosive toe-to-toe flurries throughout the first 3 rounds.  In round 3 though, Marquez fed Manny the idea of body punches just enough to catch Pacquiao off-guard and floor him with huge over-hand right.  Manny went down, falling backwards to the canvass. Pacquiao was able to shake off the cobwebs and finished the round throwing punches.   After 3 rounds, the judges scorecards should be tied: 2 rounds for Manny and a 10 – 8, knockdown round for Marquez.  Two warriors in the 4th round with punches in bunches, but Manny is giving the better shots.  Round 5 and Manny is in great form, landing shots.  Marquez is still countering, but Manny's feints, fakes and jukes are causing him to miscalculate his positions, so he gets caught with a straight left punch from Pacquiao that makes Marquez stumble and use a glove on the canvass to keep his balance. It's counted as a knockdown for Manny and fired up, he pursues Juan Marquez with a vengeance.  Marquez survives the round, but it looks like his nose might be broken. In round 6, Manny Pacquiao continues to dominate Marquez and he's hurt, but still dangerous.  In the closing seconds of the round, Marquez gets hurt and appears to be wobbly. Pacquiao zones in for the kill, but carelessly leaves himself open to a Marquez bone-crushing right and falls face-first into the canvass.  It's a 6th round knockout and a brutal one at that as Manny lays motionless on the canvass, I'm sure I'm not the only one worried about his well-being, but eventually, he is awaken by trainers and doctors.  It's the last thing that I expected to happen, but it was a great fight that got settled in the ring and not by blind or biased judges.
As with everything in this world today, people are looking for someone to blame for Manny Pacquiao's loss. Boneheads like Dana White, say the fight was all about money and blames promoter Bob Arum for scheduling the fight at all. Really Dana?  As much as I like the UFC and MMA in general, you and your organization are not immune to the "money" fights: Ortiz vs Shamrock for example.  And besides that, isn't the big part of pro sports, the money?  So leave Bob Arum and Freddie Roach out of the equation.  Blame the guy in the ring, Manny Pacquiao.  He is a champion and this is not his first rodeo.  I do think he has quite a bit on his plate, besides boxing, but he's a  grown ass man and can decide what he can and cannot handle. He was fighting a great fight, but he got excited and careless when he thought he had Marquez hurt, and really wanted to put him away in convincing fashion, to silence the naysayers. The only problem is, he underestimated Juan Manuel Marquez and got knocked out for it.
I think there is great potential for Pacquiao vs Marquez 5 as long as it happens soon.  Summer of 2013 maximum and after that, I think win or lose, both fighters could retire with honor.  Will it happen?  I doubt it.  Marquez will probably get pulled into a Floyd Mayweather Jr. match, which I think he would lose and Manny might opt to rematch Bradley, which I think he should have done as soon as possible after the ridiculous loss he had against him.  We'll see how this goes, boxing fans, but this is the kind of boxing I can and will watch, so hopefully it keeps up.
Here's a great round by round breakdown of the fight and thanks to Getty Images for the stunning image.
floyd mayweather jr.
the bond
chuck liddell
president
urban radio
compassion
brother jake
sam mitchell
ken shamrock
manny pacquiao
female safety tips
radio comedy bits
positive role models
rich franklin
knockout
brock lesnar
jake edwards
talk shows
ufc
boxing
fantasy fishing
frank mir
nba
rapist email tips
through the eyes of a rapist
rashad evans
quinton jackson
orlando magic
mma
matt hughes
antonio nogueira
the three doctors
we beat the street
basketball
barack obama
fantasy sports
successful black men
kimbo slice
blogger gadgets
the pact
toronto raptors
michael baisden
double entendre
united states of america
the champ
bad boy of radio
town hall meeting
matt serra
georges st. pierre
black radio