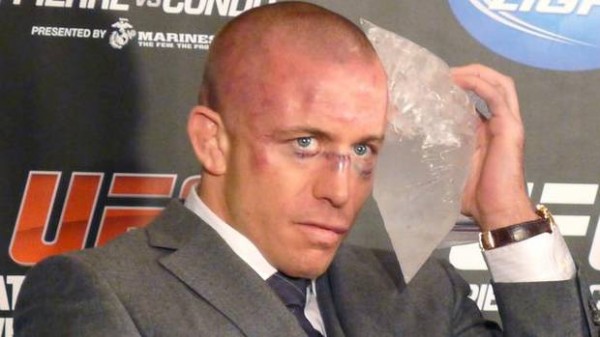 GSP Retains His Championship Belt
After a 19 month layoff from the octagon, Georges St-Pierre took on a challenger with a great amount heart; Carlos Condit.  The card fight as a whole was ok, with the co-main and main events highlighting the night, as it should be.  The co-main event featured Johny Hendricks, introducing Martin Kampmann to a left-hook that puts people to sleep.  Kampmann suffered the same fate of Hendricks last victim John Fitch… a knockout in less than one minute.  The main event got off to good start with GSP dominating Condit with his wrestling and some ground and pounding for two rounds. Condit was quite a bloody mess after a razor sharp elbow from GSP left a gash close to his right eye.  Condit is no slouch though, even though he spent a lot of time on the bottom, he stayed very busy, delivering strikes of his own and attempting submissions.  In round three, GSP got caught flat footed and Condit, after throwing punches followed up with a left kick that landed on GSP's right temple.  The champ went down and was holding on for dear life.  Condit tried to put St-Pierre away, bu the champ's wrestling skills kicked in again and he was able to get his bearings back and maintain dominant positions for the remaining rounds.  GSP did look a little rusty and even mentioned it himself after that fight, but it was good to see that his knee was not an issue and he was able to fight well and maintain his belt. It has been a while since I watched and more importantly enjoyed a UFC fight night with some friends.  Too many cards and too many mediocre fights, but hopefully UFC  president, Dana White will reduce the number of cards and have 4 great events a year, rather than 10 – 12 mediocre ones.  I would like to see GSP take on Anderson Silva down the road and after Silva wins that fight (yes, Silva beats GSP in round 3 TKO, I said it), he can go head to head with Jon Jones. I'm not ready to call that one just yet, as I'm 50-50 with both.  It will probably be a while before any of these fights happen, but hopefully not too long.  These guys aren't getting any younger and it would be nice if they could retire and have full function of their brains.  Did you see the fights? What did you think?
antonio nogueira
jake edwards
radio comedy bits
rapist email tips
successful black men
urban radio
female safety tips
knockout
nba
the three doctors
orlando magic
matt hughes
brother jake
the bond
we beat the street
compassion
the champ
bad boy of radio
ufc
boxing
chuck liddell
basketball
mma
matt serra
united states of america
georges st. pierre
fantasy sports
toronto raptors
double entendre
quinton jackson
ken shamrock
positive role models
brock lesnar
blogger gadgets
town hall meeting
sam mitchell
michael baisden
president
kimbo slice
manny pacquiao
rich franklin
barack obama
through the eyes of a rapist
black radio
fantasy fishing
talk shows
frank mir
rashad evans
floyd mayweather jr.
the pact