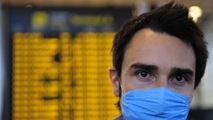 It's The Flu – You Swine!
The recent outbreak of the Swine Flu does have serious implications if things are not handled properly, but the barrage of media attention it's getting is driving people into a panic.  As serious as the Swine Flu can become, I don't think people realize that over 200,000 people get the flu virus every year and 36,000 die from it.  Those are pretty hefty numbers when compared to the Swine Flu in its infancy as it is right now.  Yes, we need to stay on top of it and be prepared, but the daily barrage of fear being thrown out by the media is driving some people insane.
The one good thing that all the Swine Flu press is doing however, is reminding people about some important things that have been long forgotten.
Wash your hands often… with soap!
If you're sick, stay home. Employers cannot continue to put fear into employees that stay home sick from work. It's an endless cycle of germ spreading and how productive do you think things will be when all of your employees are in the hospital?
Have concern for your fellow human.  When I'm sick, I try to isolate myself from everyone, because I don't want them to go through what I'm going through.  It's temporary so we just have to grin and bear it.
Point one above is really key. I can't say how many times I've seen guys use the restroom and walk out with even looking at the sinks.   Truly nasty, but now we know why the fist-bump was created.  In all seriousness, don't let this media hype overwhelm you. Just stay alert, informed and keep things clean and healthy.
quinton jackson
brother jake
the three doctors
boxing
matt serra
president
fantasy fishing
blogger gadgets
the bond
orlando magic
manny pacquiao
basketball
barack obama
black radio
successful black men
chuck liddell
sam mitchell
the pact
toronto raptors
jake edwards
double entendre
female safety tips
ken shamrock
the champ
talk shows
kimbo slice
mma
georges st. pierre
brock lesnar
we beat the street
antonio nogueira
frank mir
compassion
matt hughes
nba
rapist email tips
united states of america
bad boy of radio
floyd mayweather jr.
ufc
urban radio
knockout
positive role models
rashad evans
through the eyes of a rapist
town hall meeting
radio comedy bits
fantasy sports
rich franklin
michael baisden