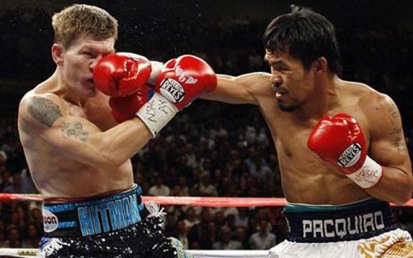 Pound-for-Pound Pacquiao KO's Hatton
One of the many "rights" Manny Pacquiao delivered to the face of Ricky Hatton on May 2, 2009.  Manny Pacquiao was the favorite in this light welter-weight fight since he dismantled Oscar De-La Hoya in a previous bout.  Pacquiao has certainly become a ring tactician, with speed, power and overall ring generalship and control of his opponents.  But not many expected to see, tough chinned, England's poster-boy, Ricky Hatton.  Manny's hall of fame trainer, Freddy Roach knew something that others didn't, when he called the fight to be over by knockout, in 3 rounds.  Roach was wrong… it ended viciously in two.  Pacquiao's  hand speed, footwork, precision and power, amongst other things, were way too much for the chin-first style that Hatton served up.  After taking severe punishment in round 1 and with 8 seconds remaining in round 2, Manny Pacquiao launched a short left hook that sent Ricky Hatton to dreamland.  Hatton was unconscious before his body hit the ground and his head hit the mat.  Thankfully, no serious injuries occurred for Hatton,
From the time I saw little Manny Pacquiao take out Marco Antonio Barrera, not once, but twice, he became one of my favorite light-weight boxers.  Barrera was my former favorite but the way Manny handled him, let me know it was time to retire Barrera and move on to Manny.  Not only is Manny Pacquiao a great fighter, his ability to stay humble and grounded is very impressive.  I've never been a fan of all the trash talking, so to see a guy like Manny, who takes the sport of boxing seriously and like a job, I can only admire him and hope that other boxers and people in general, save the trash-talking and chest-thumping and show it in their performances, whatever it may be.
Congratulations and thanks to Manny Pacquiao for providing such a great fight and a dominating performance.  With the chatter of Floyd Mayweather Jr. coming out of retirement, Mayweather vs Pacquiao is a fight that everyone will be waiting to see and although Floyd is fast, Manny Pacquiao will win that fight. (Yes I said it!)
radio comedy bits
mma
black radio
antonio nogueira
the pact
frank mir
boxing
michael baisden
quinton jackson
rapist email tips
ken shamrock
urban radio
sam mitchell
orlando magic
fantasy fishing
the bond
president
kimbo slice
nba
matt hughes
fantasy sports
compassion
female safety tips
rich franklin
positive role models
successful black men
blogger gadgets
knockout
double entendre
jake edwards
chuck liddell
talk shows
through the eyes of a rapist
manny pacquiao
united states of america
barack obama
the champ
the three doctors
brother jake
town hall meeting
ufc
basketball
rashad evans
brock lesnar
bad boy of radio
floyd mayweather jr.
matt serra
toronto raptors
georges st. pierre
we beat the street