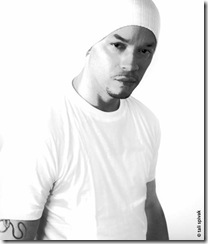 Mr. Reign – The Real Me
My long-time friend, Marvin Prince: the man that introduced "Snow" and the track "Informer" to the world, often sends tracks from new artists, my way. We are both old school DJ's from the 80's and 90's and he respects my ear and opinion on the tracks. There have been quite a few good ones here and there, but when he sent me a track called "Booty Up" from an artist called, Mr. Reign, I told him that this kid was the real deal.  Brooklyn-born and Queens raised Raymond Basora aka Mr. Reign has a skillful and clean sound with the ability to mix reggae and dance-hall skills with R&B/Hip-Hop tracks, all on his own, something many artists need a collaboration to pull off.
Check out the video of Mr. Reign's visit to Toronto to meet up with Marvin Prince and Charles Peart of MAC-FAC Management.
If you like the sound of this new talent, show your support, listen to the track and vote for Mr. Reign and "Booty Up" on Unsigned Hype Music. Vote today and every day!
Press Kit Blurb:
Brooklyn-born, Mr. Reign (aka Raymond Basora), asserts an exciting musical style that complements the diversity of the city of New York.  Raised in a religious, Caribbean family, Mr. Reign appreciates his humble beginnings and his musical roots, while growing up in NY has expanded his musical palette greatly to include a mosaic of musical genres.  Early in his youth, he began to gravitate to urban music and it is here that he began his search for his own, distinctive sound. Reign's open-minded, well-rounded musical tastes have encouraged the infusion of various musical genres into the Reggae/ Hip Hop vibe of his music.  Mr. Reign's artistic influences include Michael Jackson, The Police, Barrington Levy, Slick Rick, Julio Iglesias, 2 Pac and Rakim.

Currently in the studio on his latest album, this talented singer/ songwriter released his critically acclaimed debut album in 1997, entitled "Indestructible".  His distinctive style and collaborations with Cannibus and Amel Larrieux (formerly of Groove Theory) on the album revealed that Reign was way ahead of his time, making music that we would come to know, years later, as Reggaeton.  Mr. Reign has penned lyrics for such artists as Snow, Amel Larrieux, Silk, Voices of Theory and Lumi Dee.  His other musical endeavors include working with producers Bobby Konders (Massive B, Hot 97 DJ), Salaam Remi (Nas, Fugees, Lil Kim) and Steve Morales (Christina Aguilera, Enrique Iglesias, Celine Dion).  Mr. Reign has toured across Canada, Europe, the U.S. and to parts of the Caribbean Islands.

Reign has recently teamed with M.A.C.-F.A.C. Management for the production of his new album.  "I met M.A.C.-F.A.C. Management through producer Marvin Prince Reconnecting in 2008 through facebook, Marvin and Reign became acquainted at a NYC studio in 1992.  "Recently, I flew up to Canada to meet Marvin and his partner – Charles Peart, and now we're family".

Reign's long-term goals include becoming a magnate in the music industry by enterprising his own multimedia company.  His innovative passion for everything musical will not disappoint.  "My music is like a stew…If you put just the right amount of ingredients even though it may seem too much. It comes out just right."
I want to wish Mr. Reign all the success in the world and just know that with hard work, great rewards are inevitable.  You're also in great hands with Marvin Prince, you won't find a harder working and honest man in the business.
Contact info:
M.A.C.-F.A.C Management Inc.
Attn: Marvin Prince
Suite 2700-161 Bay Street
Toronto, Ontario
Canada, M7H 2H7
Tel: 905-903-8328
Fax: 416-282-2929
e-mail: marvinprince@hotmail.com & macfacmanagement@gmail.com
What? No web-site, Prince? Get at me, I'll hook you up!
ufc
female safety tips
urban radio
toronto raptors
we beat the street
talk shows
rich franklin
positive role models
boxing
kimbo slice
orlando magic
matt hughes
michael baisden
barack obama
through the eyes of a rapist
the pact
matt serra
the bond
brock lesnar
the champ
chuck liddell
floyd mayweather jr.
rapist email tips
black radio
manny pacquiao
frank mir
the three doctors
fantasy fishing
mma
bad boy of radio
town hall meeting
jake edwards
fantasy sports
blogger gadgets
compassion
president
antonio nogueira
georges st. pierre
united states of america
knockout
ken shamrock
nba
double entendre
rashad evans
quinton jackson
brother jake
successful black men
radio comedy bits
basketball
sam mitchell