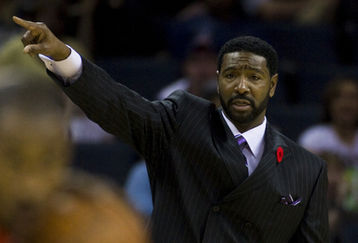 Sam Mitchell, coach of the year… FIRED!
That's right Sam, that's the way out. As I figured, Sam Mitchell was fired from his position of Head Coach of the Toronto Raptors. It's no surprise to me that he was let go… I mean with troubled financial times and all.
Like I mentioned in my previous post on this subject, it always comes down to the coach, when a team starts to lose. And if you know anything about sports, you know that the coach is not always the problem.
The Raps have always been an under-achieving team in the grand scheme of things, and with the delusion of grandure with their European picks & drafts, things just keeps getting worse and worse. But as I have told many of my friends that always try to argue with me about the Raptors is that people that leave the Raps, are most better off for it. Other than the likes of Damon Stoudamire (his star has never shined as bright as when he was in Toronto) and Keon Clark, (a sad case of a brother now incarcerated). So maybe it will be a good thing for Sam to move on.
People seem to forget that these are grown men, making big bucks to play basketball. At that level, I don't think it is a requirement to hold hands and breast feed these guys… okay, maybe for some of the rookies. Sam knows the game, he gave them the plan and they haven't executed and I don't think it's because Sam Mitchell is a bad coach. The Raptors player acquisition and roster managers have a vision. And that is the vision of creating a losing team and eventually, their key players will run for the hills. Yes, CB4 (Chris Bosh) will be leaving the building as soon as it's possible and keep your eyes open for any other boneheaded trades that the Raps will be making down the road too.
I just find it funny that a guy could be coach of the year in 2007 and get fired in 2008. Quite ridiculous, but I'm sure there are people that think he should have never been given that accolade, those individuals and their lack of basketball knowledge must be happy now. But it will be short lived, trust me on that one. The Toronto Raptors need a shake-up from way higher than the coach to change their destiny.
I'm sad to see Sam go, but hopefully it's a move forward for him and I know it will be a move backwards for the Raps.
Good Luck Sam!
urban radio
mma
knockout
matt hughes
toronto raptors
rapist email tips
frank mir
fantasy fishing
georges st. pierre
brother jake
double entendre
black radio
compassion
the champ
ken shamrock
barack obama
president
ufc
boxing
jake edwards
sam mitchell
the pact
kimbo slice
rashad evans
michael baisden
radio comedy bits
orlando magic
we beat the street
through the eyes of a rapist
talk shows
rich franklin
manny pacquiao
brock lesnar
antonio nogueira
positive role models
matt serra
fantasy sports
town hall meeting
female safety tips
chuck liddell
the three doctors
nba
floyd mayweather jr.
blogger gadgets
the bond
basketball
bad boy of radio
quinton jackson
united states of america
successful black men