The CNBC million dollar challenge is back!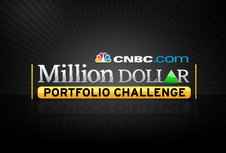 It's back! Last year I got in on the fun with the CNBC Million Dollar Portfolio Challenge and it was very interesting and a learning experience as well. I was never really big on the stock market, but this contest really opened my eyes to some of the possibilities available when trading stocks. Oh and did I forget to mention that prize of $1, 000, 000 dollars of cold hard cash? After a late and slow start, I found myself in the top 100 in 90th place with only a couple weeks remaining. But sadly, things took a bad turn when people were found to be cheating the system. The whole thing was amazing really. Stock guru's were writing books, ebooks and creating youtube videos on how to win the CNBC challenge. People really went crazy over this and I guess the lure of the money made them throw caution and morals to the wind. So I lost interest pretty quickly with all of that, not to mention they kept on delaying the announcement of the winner, made me even more annoyed. To be honest, I only found out who won, while writing this article. Congratulations to her and I will leave it at that. If you want more info, google it for yourself.
So, if you have ever had any kind of interest in stocks, currency and forex trading, sign-up for this challenge and try to win some of the great prizes up for grabs. CNBC has really fine tuned the process this time around, so hopefully there is no trickery by the contestants. My main tip to you is to collect on the bonus bucks… Here is a website where you can get all of the answers, daily: ChallengeChat or search for your own sources… there are many out there. Also, send your friends too. Those are easy ways to pick quick cash. As for picking the stocks? You are on your own! I want that money too. 😉 Good luck!
bad boy of radio
president
knockout
united states of america
antonio nogueira
matt hughes
nba
mma
talk shows
barack obama
the bond
female safety tips
through the eyes of a rapist
kimbo slice
basketball
brother jake
blogger gadgets
we beat the street
ken shamrock
urban radio
rapist email tips
matt serra
ufc
toronto raptors
orlando magic
fantasy sports
compassion
michael baisden
sam mitchell
the three doctors
radio comedy bits
the pact
black radio
chuck liddell
positive role models
floyd mayweather jr.
brock lesnar
frank mir
double entendre
successful black men
boxing
rich franklin
the champ
rashad evans
georges st. pierre
jake edwards
quinton jackson
town hall meeting
manny pacquiao
fantasy fishing