Don't blame Sam for the Raptors mess.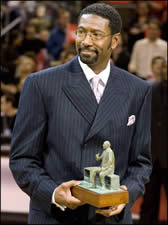 I am so tired of hearing people that know little to nothing about basketball, trying to blame coaches for a teams shortcomings. I primarily blame the media for this. Because in game 2 of the Raptors vs Magic series: had Chris Bosh made that last second jumper and won the game, there would have been a whole different type of press coverage. Probably about Stan Van Gundy's lack of preparation, but that's how it goes with the media. Just to confirm here: a coach prepares his team to go into battle, on the court, field, ice… wherever. When the players take the stage, it is up to them to put those plans and strategies they have been taught, into action. If Sam Mitchell was as bad as he is being portrayed right now, the Raptors would have started brushing up on their golf games around mid-season, with 5 or 6 wins, like the bad-old-days in Raptors history. Not to mention, has everyone forgotten that Mr. Mitchell won coach of the year in 2007! Rewinding back to that last second shot in game 2. Why didn't anyone crash the boards in case of the miss? Bosh was nicely boxed-out by Dwight Howard, but the other 4 lumps on the court just stood and watched the shot clank off of the rim and gently cascade into the hands of an uncontested Magic player. Sam doesn't need to coach that kind of thing at the NBA level. My middle school kids? Yes, they need reminders to crash the boards and box-out, but not the big boys in the NBA.
Who is to blame? Without a doubt I hold players responsible. Orlando is a better team than the Raptors, but there is no way the Raps should have taken a 4 to 1 beating, they way they did. But the people most responsible in my book are the ones making the decisions (Owners, GM, Upper Management). Going with the dream that they had acquired the next Dirk Nowitzki, was just that… a dream. The Raptor management always kill me with some of the trades and acquisitions they have made in the past, present and I'm sure their will be more in the future. With their track record, I'll be looking for a Bosh for Mutumbo trade in the near future, unless of course they can bring Patrick Ewing out of retirement! LOL!
Good Luck next season Toronto!
basketball
president
floyd mayweather jr.
the champ
the bond
nba
manny pacquiao
talk shows
compassion
the pact
kimbo slice
double entendre
michael baisden
the three doctors
bad boy of radio
brother jake
sam mitchell
ken shamrock
urban radio
united states of america
brock lesnar
jake edwards
rashad evans
orlando magic
successful black men
mma
female safety tips
positive role models
blogger gadgets
we beat the street
through the eyes of a rapist
fantasy fishing
rich franklin
ufc
georges st. pierre
matt serra
town hall meeting
matt hughes
chuck liddell
radio comedy bits
antonio nogueira
barack obama
black radio
toronto raptors
rapist email tips
quinton jackson
boxing
fantasy sports
knockout
frank mir